We have not had much in the way of dry weather for working on the boat. A few weeks ago (today is 12June19) I backed the car out of the garage and set up my varnish shop. Two days ago, we installed the varnished wood and today I got the bottom ready for paint. Some pics: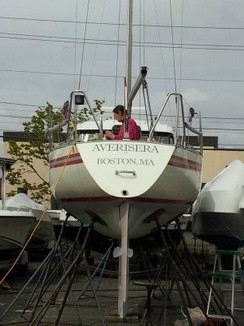 Seems like a decade ago when we were in Boston, I took this pic of Elizabeth doing a little fussing before the trailer came over to splash us. The good old days! It was probably early May.
Meanwhile, back in Harwich at the boat yard. Pictures from a few sunny days in early June.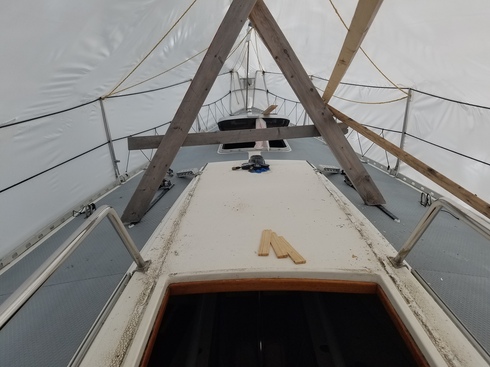 Under shrink wrap with hatch and rails off and in the garage being varnished. I clean the winter dirt with denatured alcohol and rags. After everything is inplace, it gets a good wash.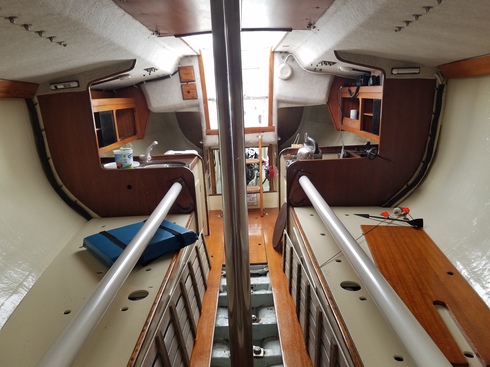 Ugh. Get the shop vac and mildew remover ready. The boat winters well under the wrap but mildew still creeps in and a lot more dust settles than one would think possible.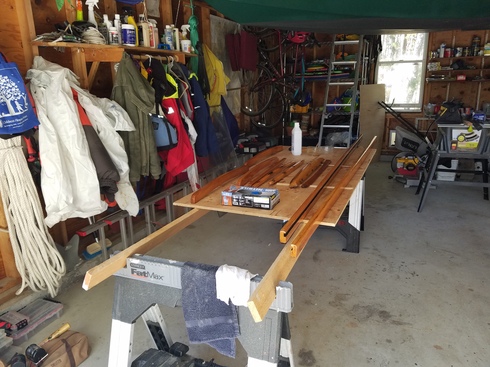 Varnish shop. Mama's Ford is parked outside. Hatch parts being varnished.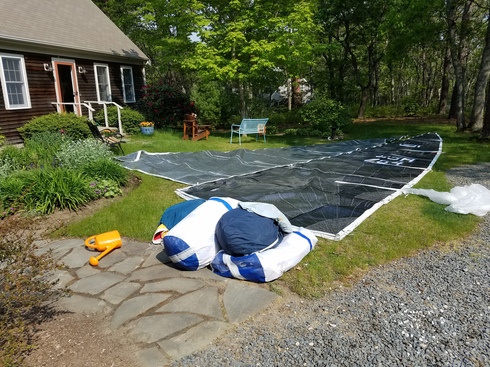 Someone was worried mice might have gotten into the loft and eaten into our sails. Nope. Tedi the Attack Cat guarded my stuff all winter. Tedi has a cozy cottage in the garage loft with radiant floor heating.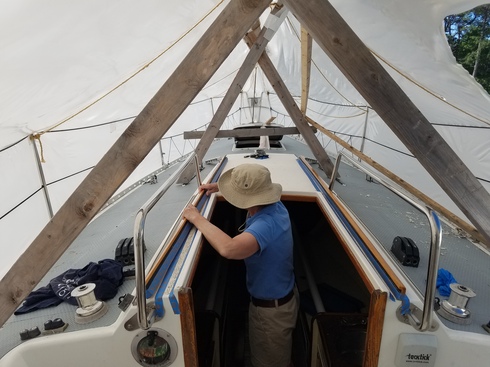 The newly varnished rails are being dry-fitted before installation. We secure one side, install the hatch in the slider, install the other rail and fasten everything in place. Once the hatchway is watertight we can remove the shrinkwrap and get moving.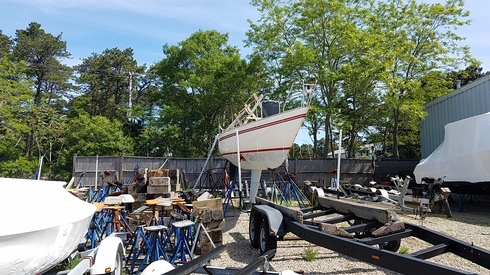 I am happy to have removed the shrink wrap and snapped this picture. Somehow, I sense that the boat will make it to the water this year.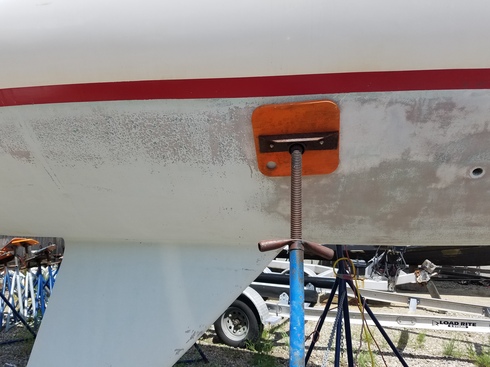 The old bottom paint flaked off in many places during the winter. The bottom that is sanded is forward of the poppet. Unsanded is aft.. This year, bottom prep went real fast. Thank goodness, everything else has dragged on and on. We are going with two coats of Pettit ECO Hydrocoat. White. It must be dry in order to apply the paint. Today, the 13th, is rainy. Maybe tomorrow will be dry.

A complete aside: The Bermuda 1-2 is in progress with the single handed leg finishing up. Three Morris Justines are racing and close together. One design ocean racing in Morris Justines? Sure, why not.
More to follow.